Before we go through tips, here's how to know if you have hooded eyes:
A hooded eye is one that is set in a way that the natural crease is not readily seen. This eyeshade typically features a layer of skin that drops over the crease causing the lid to appear small. 
                                                                                                        Source: Youtube.com
If  you apply makeup the wrong way, it can make your eye lids appear even smaller.  These  tips will help you make lids more visible and let your eye makeup pop!
1. The first step is to use a eyeshadow primer.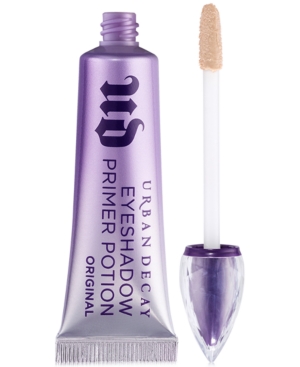 Black Radiance Eyeshadow Primer 
Smudging and transfer occur easily with hooded eyes. Eyeshadow primers, which make eyeshadows stay in place, are a must for  hooded eyelids.
2. Do not 

round out your eyebrows 
Rounding out your eyebrows and creating a high arch will create more space for eyeshadow but will make eyes appear even more hooded.
3. Do shape your eyebrows straight and flat
A straight and flat eyebrow pointing downwards will make hooded eyes look more open.
3. Have your eyes open when applying product
Having your eyes open will help you see where to properly apply eyeshadow colours and see how flattering looks are on your hooded eyes.
4. Find your crease area
Hooded eyelids by default do not have creases so you will be creating a faux crease. Using the wrong end of a brush, locate the bony area of your eyes. Start applying your medium eyeshadow colour  from the bottom of your lids then work your way up to slightly above the bony area.
5. Apply eyeshadow with an arch motion to create your crease
Create the illusion of a crease by applying  your darkest eyeshadow colour with an arch motion, focusing on the outer corners of the eye.
6. Apply eyeliner as close to your lashes as possible

Do not apply liquid eyeliner directly to your waterline. There will be smudging and lots of tears.
7. Limit shimmery and light eye shadow colours to the brow bone
8. Blend, Blend, Blend
Blend your eyeshadows so there are no harsh lines. You want the different colours you used to look uniform with no clear distinction.
9. If applying false eyelashes, go for natural styles

The long and fluttery eyelashes on the left emphasize the hooded shape of the eye.
10. To achieve a cat eye look, focus on the outer corner of the eyes
And that's it! You now have the tools to make those hooded lids pop!
10 tips to make Hooded Eyes Pop!